And, like that Deb in Dallas, the hits just keep on coming.
Last night,
Greta Van Susteren interviewed Republican Ben Quayle
, as he gets ready to face off in the general election against Democrat Jon Hulburd. Highlight of the 5 1/2-minute interview? Don't know yet - her videos are not playing on my computer at the moment.
Continuing her tour down the right lane of Arizona's political highway, John McCain is her featured interview tonight. Democrat Rodney Glassman should not hold his breath for a rebuttal invite.
Ready for a snarl-off!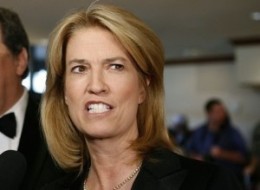 Who else should Greta interview as part of her Arizona series?
UPDATE: Greta's blog just picked up on
this item from the New Times
, noting that J.D. Hayworth did not call McCain to concede and congratulate, even though John waited. Nothing wrong with a few kissing-up points just before the interview.