Retired Arizona Rep. Gabrielle Giffords and her husband, retired Cpt. Mark Kelly, met briefly yesterday with New York City Mayor Michael Bloomberg, apparently to discuss gun regulations in the wake of recent shooting sprees. Bloomberg has been an outspoken proponent of additional regulations and heads up Mayors Against Illegal Guns, and
his office released a photo
from the meeting.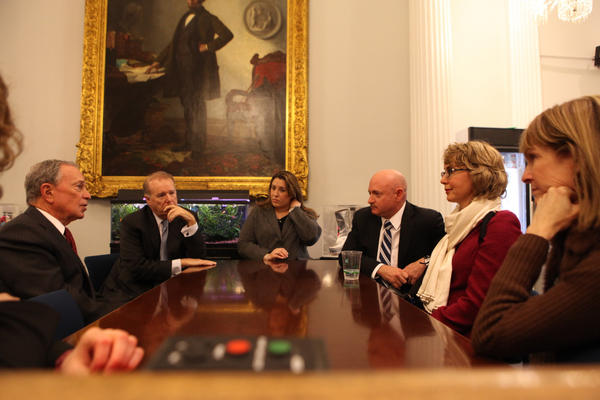 The
New York Post first reported
on the meeting, which took place yesterday afternoon. Of course, Giffords was the primary target of well-armed Jared Loughner two years ago, and Loughner killed six people and wounded 12 that fateful January 8.
Giffords retired from Congress to focus on her recovery, and has made limited public appearances since. Giffords and Kelly did express their strong disappointment with the NRA's recent response to the massacre in Newtown, Connecticut. On December 21,
Kelly posted the following on his Facebook page
:


We welcome your comments about this post. Or, if you have something unrelated on your mind, please e-mail to info-at-arizonaspolitics-dot-com or call 602-799-7025. Thanks.